Our Forsyth County citizens have supported me for over 40 years.  Forsyth County folks supported my private law practice for 30 years.  Forsyth County folks then elected me for 12 years to serve them as one of their Judges. Other Judges across the State asked me to serve in positions of responsibility and planning.  Now, at the end of this year, 2015, I feel it appropriate to thank our Forsyth County leaders and officials who helped me upgrade our Probate Court citizen service by providing our new Forsyth County Probate Court facility which opened at the first of November, 2015.
Thank you.

Curriculum Vitae of Judge Lynwood Deal Jordan, Jr.,
i.e., "Who Is This Guy?"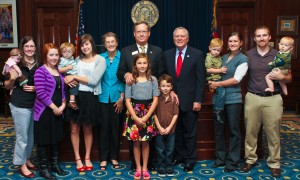 Judge Jordan is the Probate Judge of Forsyth County, Georgia.
He received his undergraduate degree from Emory University in Atlanta, Georgia, served in the United States Army, and then obtained a Juris Doctor degree from the Walter F. George School of Law, Mercer University, cum laude, serving on the Law Review, as Law Review Editor, and as an instructor for Legal Research and Writing and for Moot Courts. He was elected to the Brainerd Currie Honor Society at Mercer.
Judge Jordan is a member of the Board of Trustees of the Institute of Continuing Judicial Education at the University of Georgia. At present, he is serving as Secretary of the Board. He also is a member of a special committee charting a certification program for Probate Court Judges by the Carl Vinson Institute of Government at the University of Georgia.
In 2010, he was elected President of the Council of Probate Court Judges of Georgia. In 2011, Judge Jordan was selected by the members of the Council of Probate Court Judges of Georgia as the Outstanding Probate Judge for the State of Georgia, and was appointed that year by Mr. Ken Shigley, President of the State Bar of Georgia, to the Next Generation Courts Commission.
Also in 2011, he was appointed by Governor Nathan Deal to the Board of Commissioners of the Judges of the Probate Courts Retirement Fund of Georgia as the Governor's appointee on this Board.
He served on the Chief Justice's Commission on Records Retention, and now serves on the Executive Committee of the Office of Dispute Resolution, Ninth Judicial Administrative District. Judge Jordan has served on the Judicial Council of Georgia which is an administrative arm of the Supreme Court of Georgia. He also served on the Board of Directors, Constitutional Officers Association of Georgia.
Judge Jordan practiced law in Forsyth County from 1975 until his election as Probate Judge in 2004, concentrating in later years in estate planning, wills, estates, and probate. He is a member of the bars of the State and Federal Courts in Georgia, and has been an Attorney and Counsellor of the Supreme Court of the United States since 1979. He served as County Administrator and County Guardian/Conservator for more than 15 years prior to his election. He was County Attorney during the decade 1975 to 1985. He also served as Special Deputy Attorney General for the State of Georgia for most of his private practice career.
Recent publications by Judge Jordan include several case law updates published in The Gavel, the Probate Judges' magazine; and, co-authoring Duties and Responsibilities of Personal Representatives of Decedents' Estates in Georgia, a booklet published jointly by the Georgia Council of Probate Court Judges and the Fiduciary Law Section of the State Bar of Georgia in 2007.
He has taught several instructional segments for the Institute of Continuing Judicial Education (ICJE) and is a member of the National College of Probate Judges. He has presented programs to attorneys, such as a February, 2008, Institute of Continuing Legal Education (ICLE)  television program on Elder Law broadcast statewide over the Georgia Public Broadcasting system to attorneys around the State.
Judge Jordan is a member of the First United Methodist Church in Cumming, where he taught 5th grade Sunday School for 23 years, and has served on several boards and in several offices. He is a former "Man of Forsyth." He is a Rotary International Paul Harris Fellow. He is married to the former Susan Davenport Finnigan whom he met at Emory University.  They have three children and eleven grandchildren.